September 21, 2020 | News | Scott Greenberg
September 2020 Harvest Update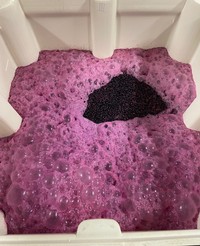 Our 2020 grape harvest has begun! Pinot Gris has typically been our first pick, but for the first time in 10 years, we started with Merlot from Red Mountain's Quintessence Vineyard. This wonderful fruit will be part of the 2020 Fly Rod Cellars wine. Harvest was Sept. 9, we crushed that night and did a three day cold soak to help bring out color from the skins. Then we began a very active fermentation (photo to right).
Next was our Gamache Vineyard Pinot Gris, used for our Three Forks Rose'. Harvest was Sept. 10, and crush was Sept. 12. After a three day cold soak, the juice was a pinkish-red, ready for pressing and settling. Fermentation has started in stainless steel tank, and we expect to do a long, cool fermentation to maintain flavors and aromas.
Our next scheduled picks were delayed due to hazardous air quality for the vineyard workers due to wildfire smoke. Our final pick of Red Mountain Merlot (from Ciel du Cheval Vineyard) was Sept. 19. Our Ciel du Cheval Grenache is scheduled for Sept. 22. The good news is that the smoke filtered the sun, so ripening was also delayed. The smoke has now cleared, the skies are sunny and blue, and the weather is warm. Hopefully harvest 2020 will finish without more challenges.
What impact will smoke have on the 2020 wines? We're a bit unsure at this point. Smoke taint isn't always perceptible in the grapes or newly finished wines. It often shows up after bottle aging. We had a week or more of smoky, hazardous air. Several sources said that the smoke was mostly larger particles that do not penetrate grape skins. The smaller particles that would be a concern peaked for only about 90 min., so their impact could be minimal.
We are monitoring ongoing smoke taint information from Washington State University and our industry orgainzations. We can make a few changes to our normal winemaking techniques to minimize smoke taint in finished wines, but so far haven't found it necessary. If wine ends up smoke tainted, the best advice right is to drink it early and not let it age.