August 11, 2020 | Winemaking | Scott Greenberg
Blending Trials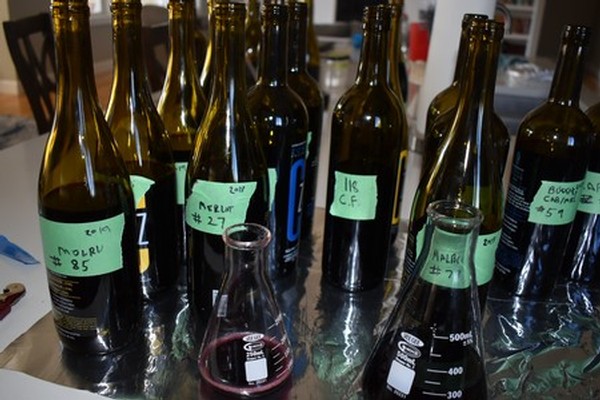 Blending wine is part art, science, and economics. For this session, we were tasting the 2018 bordeaux varietals and 2019 rhone varietals for bottling in early 2021. All of these wines are very young and will benefit from some time in bottle.
We began with the rhones, which have been in barrel less than a year. The 2019 Grenache that comprises Mistral is fruity, vibrant and juicy. The 2019 Mourvedre will become a Fly Rod Cellars wine that is big, bold and dark, with a little smokiness from a barrel of new oak.
Our Merlot oak experiment resulted in significant differences between barrels. We have three barrels of Merlot: one neutral oak, one new French oak and one new American oak. The American barrel was soft with a hint of characteristic coconut. The French barrel was more smoky, vanilla and almost overpowered the wine. The neutral barrel was fruity and aromatic. All of these will be blended together as the base for Storm Front along with some Cabernet Sauvignon and Petit Verdot.
We will physically blend these wines just before harvest begins so they have an opportunity to integrate in barrels. We can make additional adjustments prior to bottling after the blends have a chance to further age.